Bluetooth earbuds in every shape
Our Bluetooth earbuds give you a lot of freedom, because there's no wire between the wireless earbuds and the device. Everything is connected via Bluetooth, with the microphone, controls and battery all built into the wireless earbuds. These Fresh 'n Rebel earbuds are super comfortable and compact. Check out our different models and find the earbuds that are perfect for you!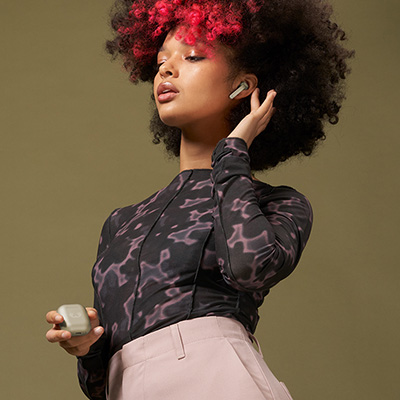 Products
On a first glance you might not see the difference, but our new Twins 3+ are a worthy upgrade of the Twins 3 and not just a marketing gimmick. The Twins 3+ are the true wireless earbuds you love, but with a plus.
Frequently Asked Questions
We think switching to listening to music wirelessly is the best thing you can do. Never get caught on your cable again or have to untangle your earphones before use. That literally sounds like music to our ears. But how do Bluetooth earbuds work? To use them, connect the earbuds via Bluetooth. This can be done with a telephone, tablet or a laptop or computer. And don't worry, connecting via Bluetooth is super simple. Turn on Bluetooth on your device and make sure the earbuds are in pairing mode. Are they connected? Then enjoy the wireless sound experience.
Every ear is different. It's therefore not surprising that one-size-fits-all Bluetooth earbuds may not fit perfectly. Depending on the size of your ear canal, your earbuds may or may not be comfortable. If the ear canal is too large, your Bluetooth earbud has little grip and will fall out. If the ear canal is too narrow, you won't be able to insert the wireless earbuds far enough, causing them to fall out.
Therefore choose Bluetooth earbuds that fit perfectly. That may sound easier said than done. Because an ear is not a shoe of which you know the size. Bluetooth earbuds with soft silicone dome are the ideal solution. Why? The domes are supplied in different sizes. Try out all the included eartips to make sure your Bluetooth earbud stays in place all day long.
We mainly use Bluetooth earbuds for listening to music. The sound quality is therefore extra important. But did you know that you can influence the quality of the sound yourself? Our golden tip for taking full advantage of the sound quality of our earbuds is to ensure that the input of your playback device is also 100%.
Check the quality of the signal you are playing in your settings. Do you use Spotify to listen to music through your wireless Bluetooth earbuds? Know that Spotify works with 'data savers'. Handy if you have a limited data bundle. But do you have unlimited data? Then turn off the data saver and select 'very high' under Music Quality. This way you can enjoy the best sound quality via your Bluetooth earbuds.
Do you have problems with your Bluetooth earbuds? Then there are two common problems that could be the cause. Your new Bluetooth earbuds won't pair with your playback device. Or you have been using your Bluetooth earbuds for a while and suddenly they no longer want to pair. What now?
Start by checking the Bluetooth earbuds:
Is airplane mode still switched on? That's an easy fix. Bluetooth does not work in airplane mode.
Measuring is knowing. Is the distance between your Bluetooth earbuds and the playback device more than 10 meters? Then you lose the connection.
Are you a few updates behind? The connection problem may be due to a bug. Keeping your phone up to date can do the trick.
Check whether your Bluetooth earbuds are charged.
Are your Bluetooth earbuds still not working? Then try:
Disconnecting Bluetooth on the playback device.
Restarting your playback device.
Turning Bluetooth back on to connect.
Most Bluetooth earbuds work perfectly again after one of the above steps. Are you less lucky? We have a team ready to assist you. You just need to send an email to [email protected] so we know what the problem is.