Noise cancelling earbuds in every shape
Fresh 'n Rebel's noise cancelling earbuds give you an optimal listening experience. Active Noise Cancelling (ANC) ensures that ambient noises are suppressed so you will not be bothered by what's happening around you. In this way you can enjoy your music, video, podcast or call to the max. Check out our different models and find the earbuds that are perfect for you!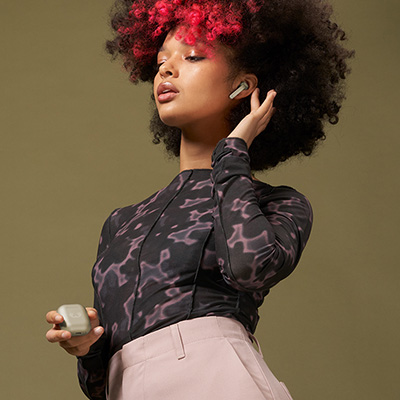 Products
On a first glance you might not see the difference, but our new Twins 3+ are a worthy upgrade of the Twins 3 and not just a marketing gimmick. The Twins 3+ are the true wireless earbuds you love, but with a plus.
Frequently asked questions
Noise cancelling earbuds are the perfect accessories that you can no longer do without. Why? Noise cancelling dampens (disturbing) ambient sounds and noise. This is done by producing an anti-noise. The smallest and finest microphones in the earbuds capture the sound around you. After an analysis, it is reversed to dampen the sound.
A must-have for work or studying. But how about a crowded noisy train or plane? You only have to put in your noise cancelling earbuds and the chaos disappears. It's all you and your music, podcast or video. Thanks to the noise cancelling, you don't have to turn up your sound. Our noise cancelling earbuds therefore contribute to preserving your hearing.