Wireless earbuds in every shape
Our Wireless earbuds give you a lot of freedom, because there's no wire between the wireless earbuds and the device. Everything is connected via Bluetooth, with the microphone, controls and battery all built into the wireless earbuds. These Fresh 'n Rebel earbuds are super comfortable and compact. Check out our different models and find the earbuds that are perfect for you!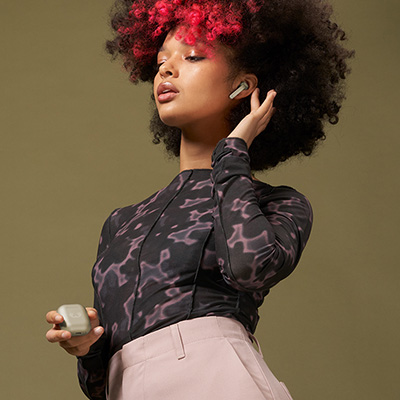 Products
On a first glance you might not see the difference, but our new Twins 3+ are a worthy upgrade of the Twins 3 and not just a marketing gimmick. The Twins 3+ are the true wireless earbuds you love, but with a plus.
Frequently Asked Questions
Do you have an active life? Or do you want to make sure you don't lose your earbuds? Then it's handy if your wireless earbuds stay in your ears. Try wireless earbuds with silicone tips. You will receive the soft tips in different sizes. Choose the right size to ensure that the wireless earbuds stay in place perfectly in every situation.
Wireless earbuds are ideal for calling someone or enjoying your favourite music with maximum freedom of movement. But how do wireless earbuds work? These work via Bluetooth. You can connect your wireless earbuds to your phone, tablet, or computer via Bluetooth. You have to charge them before you can use them. You are freed from your cable, because the earbuds are powered by a battery.
The operation is also super simple. You can operate your wireless earphones with the buttons on the side or even with touch controls to turn them up or down. Not all models have these options. Check in advance whether your wireless earbuds have this function.
With a huge range of wireless earbuds, it is difficult to choose which are best for playing that one cool playlist. Therefore, think in advance about what you want to use your wireless earbuds for. There are earbuds for sports, work, calling and traveling.
Scroll through the reviews to get a better idea of how others rate the wireless earbuds. Read comments about how the earbuds close, how long the battery lasts and/or whether the wireless earbuds have a rechargeable case. The material of the earbuds, the shape and the supplied silicone ear tips are also interesting because this says more about comfort.
Wireless earbuds are constructed slightly differently than wired earbuds. These handy earbuds work with Bluetooth and you can store them safely in a charging case. Because they use software and hardware, there are a number of reasons why your wireless earbuds may not work.
The most common reasons why wireless earbuds don't work:
The wireless earbuds are not properly connected to your phone or laptop.
Your phone or laptop does not have a good Bluetooth connection.
Wireless earbuds always connect to the last device they were connected to.
One of the two wireless earbuds has a lower volume because the balance is set incorrectly, something is wrong in the software or because there is dirt on the mesh.
The wireless earbuds no longer charge and are therefore empty.
Wear on the battery causing the earbuds to drain faster.
You haven't cleaned the wireless earbuds for too long.
Taking good care of your wireless earbuds is important. Keeping them clean and removing dirt ensures a better sound experience and the best performance from your wireless earbuds. Are your wireless earphones still not working? Try resetting the earbuds. A software reset often helps with a quickly draining battery, poor connection, when the earbuds do not charge or you only hear sound on one of the two sides.
Are you stuck? Please feel free to contact our customer service at [email protected].